NAVICON TORTURE TECHNOLOGIES "Bottomfeeder" Single Side C40 NBM20TAPE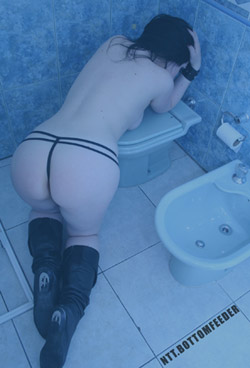 Delayed for two years for various reasons, NIL BY MOUTH presents BOTTOMFEEDER.
With BOTTOMFEEDER, Navicon Torture Technologies spins a twisted, noirish tale of obsession, sexual addiction and perversion.
BOTTOMFEEDER contains a collaboration track with German power electronics master [BLEED], as well as a collaborative cover version of the song UP IN FLAMES, recorded with with BAIN WOLFKIND and flame performer Paula Kaiser. UP IN FLAMES, written by David Lynch and Angelo Badalamenti, was originally performed by Koko Taylor in David Lynch's film, WILD AT HEART.
Also included are one previously unreleased track, and an extended version of the track, BLACK VOMIT OF CONTEMPT, the original version of which was featured on the ADDICTION cassette compilation released in 2008 by EN.MI.TY RECORDS
Large cristal clear plastic case with postcard. Blue cassette with chrome tape
8 Euro (Europe) – 10 Euro (World)
http://www.myspace.com/nilbymouthrec